Patriots Blank Demons
Posted 5/25/16 (Wed)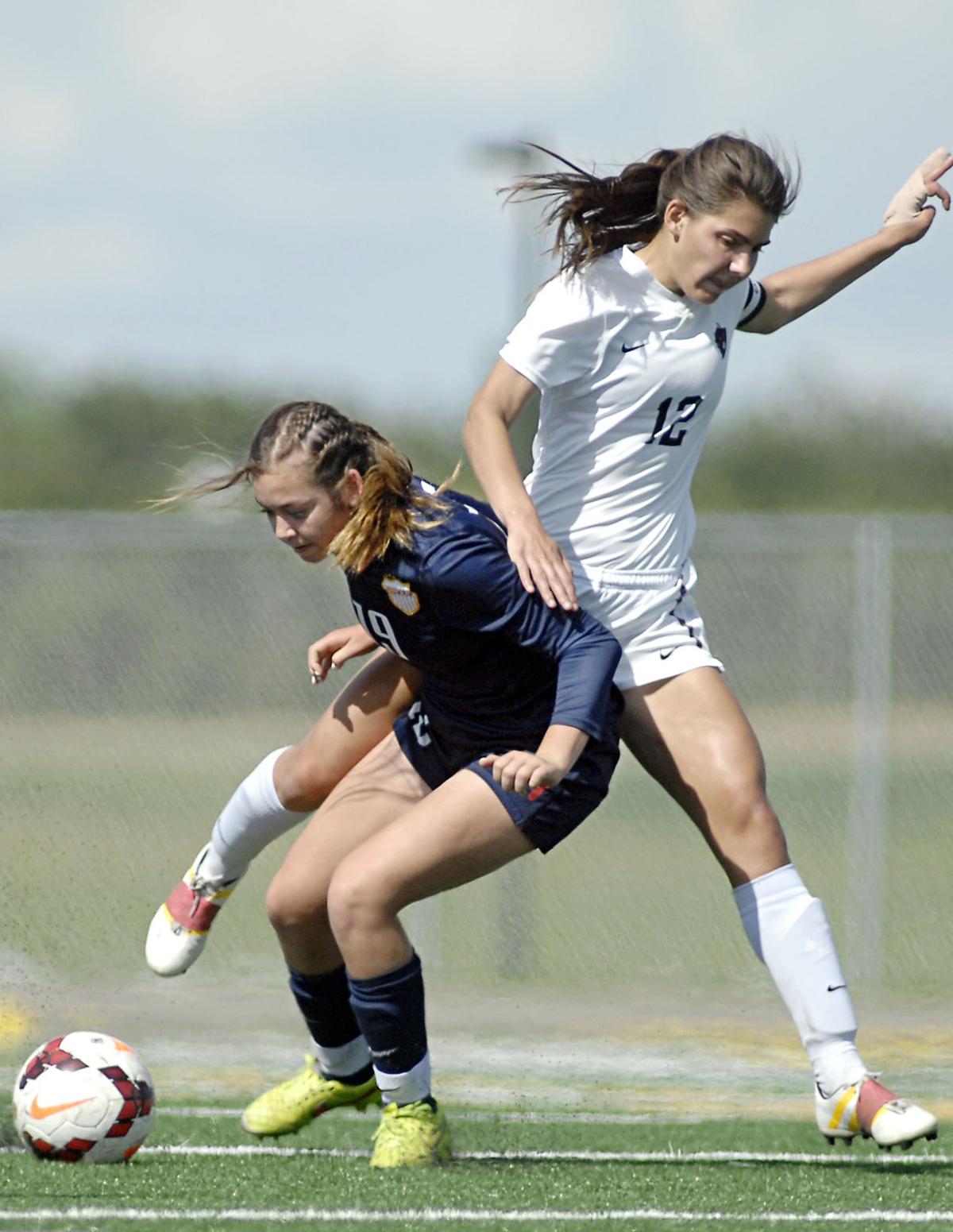 The Century Patriots continued their march toward a perfect record in the West Region with a victory over the Bismarck Demons on Tuesday afternoon at the Bismarck Athletic Complex at Legacy high school.
Taryn Neameyer and Kylee Welch each tallied goals and Alissa Betz recorded a shutout to lead the Patriots past the Demons 3-0.
"It's pretty cool to have a chance to go undefeated in the West again," Century coach Nate Ulness said. "We're definitely taking it one game at a time right now though.
"We're preparing for Minot on Thursday and from there moving on to the state tournament in Mandan."
Century notched its first goal of the game 14 minutes in on a Lauren Fleming penalty kick. Following a save by Bismarck goalkeeper Rachael Sayler on a breakaway attempt by Welch, Neameyer drew a penalty to give Fleming the opportunity.
Fleming hammered it home on a smooth kick to the left side of the net, faking out Sayler who dove to stop a shot to the right.
Madison Burgard had an opportunity to knot the game up at one goal apiece near the midway point during the first half, but great closing speed by the Century defense led to an attempt that sailed just wide of the right side of the net.
Century proceeded to up its lead to 2-0 with eight minutes remaining in the first half on a beautiful play by Neameyer. The senior midfielder maneuvered her way through multiple Bismarck defenders before ultimately blowing a shot past Sayler to give the Patriots a two-goal lead as the first 40-minute session came to a close.
"Taryn was just playing like Taryn," Ulness said. "She's a cyborg, she's everywhere. She's so dynamic, and she's really a catalyst for any team that she is going to be on. For us, it's been an absolute blessing to have her in the midfield.
"She's been working so hard, and I thought she worked really hard tonight, playing a top 80 minutes."
The second half was mostly a defensive battle, with both the Patriots and Demons keeping each other from producing a high number of scoring opportunities.
In the games closing minutes, however, Welch finally broke through with a goal to put Century up 3-0.
Similar to Neameyer, Welch controlled the ball well and made her way past multiple pursuing Bismarck defenders before scoring the put-away goal.
"I thought our girls did a good job of moving the ball," Ulness said. "Kylee and Taryn were fantastic on the attack. They were involved in all three of our goals, Kylee scoring one, Taryn scoring one and Taryn drawing the penalty for our penalty kick.
"Hats off to those two."
Betz finished the game with five saves, stifling a Demons attack that rarely had an opportunity from in close due to a stingy Patriots defense.
Century's victory moved it closer to a perfect record in the West Region, as it now stands at 11-0 with only one game to play. Bismarck, on the other hand, dropped to 4-9-2 overall on the season and 3-6-2 in the West.
The Patriots will host the Minot Magicians on Thursday in a battle between the top two teams in the conference.
"We just need to treat it like a tournament game, coming out and playing how we always play," Ulness said of the impending matchup. "It's going to be a tough game. Minot is going to be up for it, I think we'll be up for it and it should be a good, fun game.
"It'll definitely be a prelude into what the state tournament is going to look like."
Soccer Box
Century 3, Bismarck 0
At Bismarck Athletic Complex
First half: 1. C, Lauren Fleming (Unassisted), 14:00. C, Taryn Neameyer (Unassisted), 32:00.
Second half: 3. C, Kylee Welch (Unassisted), 77:00.
Halftime score: C 2, B 0
Goalkeeper saves: C – Alissa Betz 5-5 – 0. B – Rachael Sayler 14-17 – 3.
Yellow cards: None.
Red cards: None.
Records: B 4-9-2. C 13-1-0.