Going Out with a Bang
Posted 6/05/16 (Sun)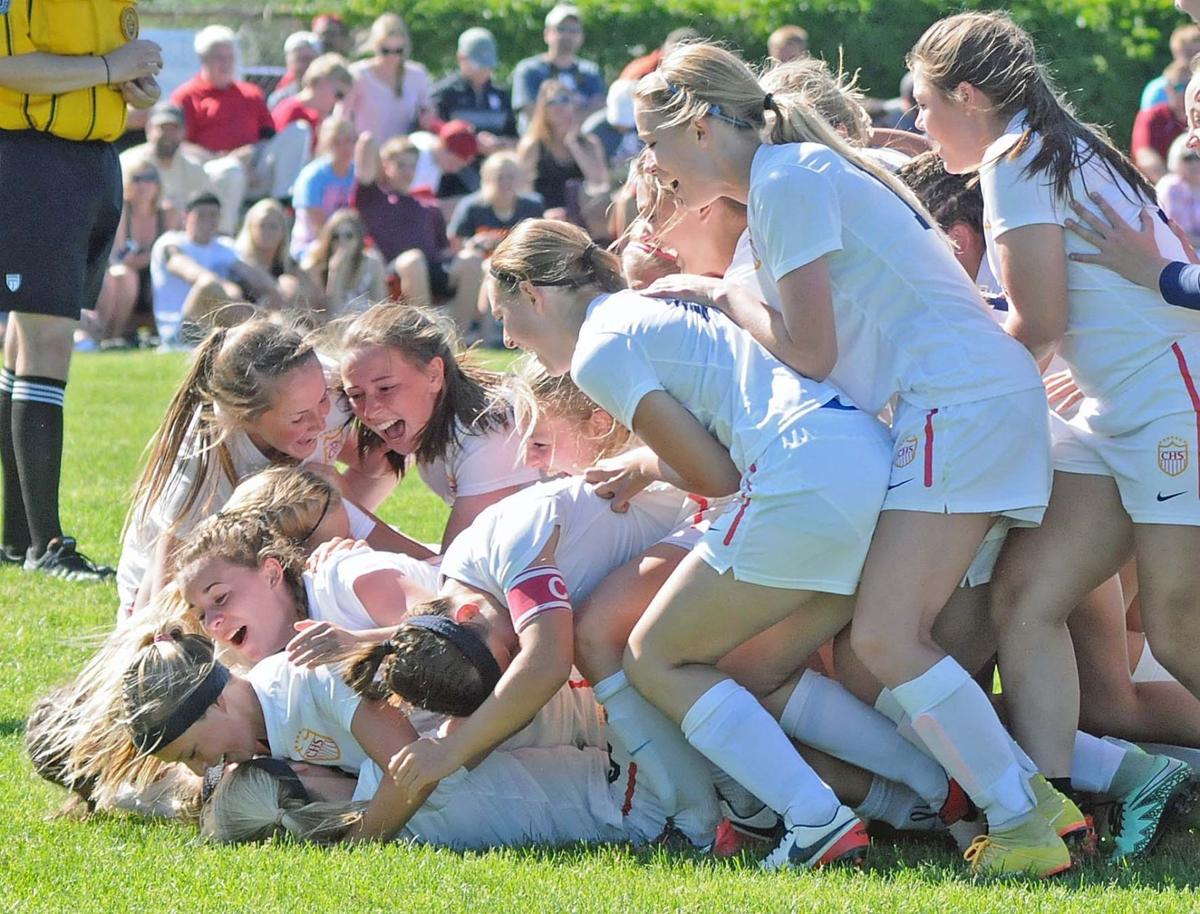 Throughout the entire season the Century Patriots followed the rule of playing as a team. On Friday afternoon at Dacotah Centennial Soccer Complex in Mandan, Century won a state championship as a team.
The Patriots defeated the Fargo Davies Eagles 1-0 to collect their eighth state title and first since 2013.
"It feels great [to be a state champion]," senior defender Tiffany Ohlhauser said. "We worked very hard to get where we are.
"We just stayed strong, and it feels great to go out with a bang."
Century wasted no time at all getting on the scoreboard, as Kylee Welch took a crossing pass from Hannah Richter and punched into the back of the net past all-tournament team goalkeeper Kai Erickson.
"We always want to be there for each other, and that was the key in the game," Welch said. "I was just waiting for Hannah to cross it, and she knew I was going to be there.
"I just wanted to be there for the team to score a goal and win state for everybody."
Richter's crossing pass sailed over the heads of multiple Eagles defenders and directly onto the foot of Welch, who proceeded to give her team 1-0 advantage just two minutes into the game.
"When you score that quickly, the other team kind of gets down," Welch said. "You want to stay as strong as you can, so we played more defensively."
Welch's goal was only the sixth score surrendered by Erickson all season long, and it was all the Patriots needed to win the game.
The remaining 78 minutes of the game were scoreless following the Welch goal, as Century locked down defensively and took control of the game with crisp passing and long offensive possessions.
"We definitely worked as a team today," senior midfielder Taryn Neameyer said. "We stayed centered in our defense because we were already up. Another goal would have been great, but we didn't need one.
"We knew that we had to drop in and play hard defense so they couldn't get a goal on us."
Senior Athlete of the Year award winner Jenny Marsh nearly tied the game for Fargo Davies 16 minutes into the first half on a free kick that ricocheted off the top cross bar, but that was the closest the Eagles came to scoring until the game's closing minutes.
"They knew what to expect and they played Jenny well," Patriots coach Nate Ulness said. "She is a heck of a player, and she has a bright soccer future ahead of her, but as a team, they were able to shut her down and eliminate her from the game, which threw the plans off for Davies I thought today."
Century's defense completely suffocated the Fargo Davies offensive attack, as goalkeeper Alissa Betz was only forced to make four saves throughout the game.
Betz finished the tournament a perfect 14-for-14 on opposing shot attempts, disallowing any goals from players that managed to get past the Patriots' stingy back line.
"From the defensive line, it was one person step and then everybody else cover," senior defender Lauren Fleming said. "If that one person gets beat, we had three other people there to beat before that person gets a shot on goal."
Brooke Bergen had an opportunity to tie the game up for Fargo Davies with under a minute to play, as she sliced her way through the Century defense to force a one-on-one situation with Betz.
She fired her shot toward the right side of the net as Betz came out from the goal line to defend, but Bergen's attempt soared just wide to essentially lock in the Patriots as state champions.
Century also had six girls named to the all-tournament team, which was the highest of any school. Richter, Welch, Neameyer, Ohlhauser, Taylor Weeks and Abby Westbee were all honored by the voting committee.
"I think the amount of people that went up there on the all-tournament team shows how hard we work as a team," Fleming said. "Three people from our back line went up there. We worked really well as a unit."
With the state title game victory, nine seniors – Welch, Fleming, Neameyer, Ohlhauser, Weeks, Betz, Calista Moch, Glory Schettler and Bethany Pollert – all finished their Patriots careers as champions.
"This is a really fun team to be a part of," Ulness said. "I'm definitely going to miss this class of nine seniors next year, both on the field and off the field as individuals. I'm so proud of the rest of the girls as well for what they contributed for those nine seniors and this year.
"Fantastic team effort, fantastic team energy; they played for the name on the front of the shirt and not the name on the back this year."
State soccer tournament
Championship
Century 1, Fargo Davies 0
At Dacotah Centennial Soccer Complex
First half: 1. C, Kylee Welch (Hannah Richter), 2:00.
Second half: No scoring.
Halftime score: C 1, FD 0.
Goalkeeper saves: C – Alissa Betz 4-4 – 0. FD – Kai Erickson 7-8 – 1.
Yellow cards: C – Calista Moch, 45:00. Welch, 73:00.
Red cards: None.